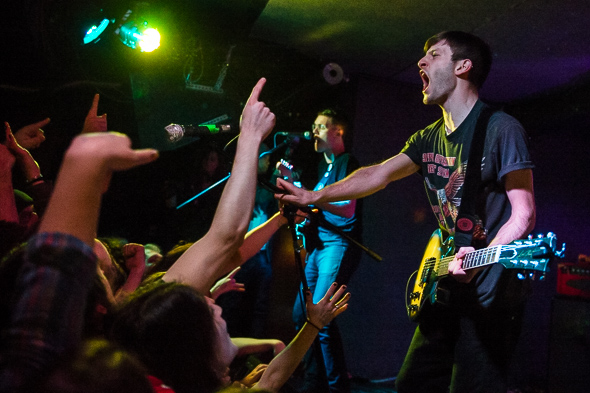 Toronto punk rockers PUP and frat boy party-anthem posse PKEW PKEW PKEW will be on their way to Austin next week, the first American stop on their summer tour. They're playing at Sidewinder on Tuesday night, and we've got a pair of tickets to get you in!
This week, in addition to the latest music by PUP and PKEW PKEW PKEW, we'll have new tracks by The Bandicoots, BESTiE, and Wolf Parade—yes, that Wolf Parade! Plus, loads of artists never before heard on the show, like Adam Strangler, Animal Names, Chris Storrow, Museum Pieces, and Walrus. We'll also spin some great tunes by artists including The Belle Game, Bruce Peninsula, Cookie Duster, Falconhawk, P:ano, Rah Rah, Shawn Mrazek Lives, and The Wooden Sky. And, at 5:00, we'll bring you our latest Neil Young Song of the Week, part of our countdown of the Top 100 Neil Young songs of all time, as rated by Rolling Stone.
Join Justin the Canuck this Friday at 4:30 PM Central for the latest Canadian indie tunes and for your chance to win those tickets! As always, we'll be live on KOOP Radio—91.7 FM in Austin and streaming online at KOOP.org.